Analogue / Digital Telephone Systems
, FAX, Paging, PA, Accessories
Our portfolio of products range from the following manufacturers:
Agfeo
Alcatel
Avaya
Audioline
Argent
BT
Ericsson
GPT
Goldstar
London
Mitel
Panasonic
Philips
Samsung
SDX
Lucent Index
Securicor
Telrad
Toshiba
Belmont Communications are distributors of both new and second user business telephone systems.
Analogue/ISDN2
Small single analogue or ISDN2 systems with limited extensions are readily available. Ideal for the smaller office, they can connect one or two incoming lines with up to eight extensions, including fax and computer connectivity. Software control which allows extensive features such as call-diversion and music-on-hold can customise these systems into the ideal telecommunications solution for your small business.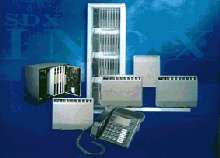 We supply, install and maintain larger systems such as the very popular "INDeX" - Suitable for small offices which may need future expandability, larger offices and even call centres. The Index is capable of multiple extensions with connection to either analogue or ISDN lines provided by your network supplier (BT, Cable and Wireless etc). The expandability and scope of the index system is demonstrated by the fact that it is currently in use across over 1 million UK business telephone lines.
Our staff will act on your behalf to liaise with your own network provider ensuring that the correct solution is achieved prior to installation.
Accessories


We supply all the attachments available for a modern phone system, including:
Operator Consoles
Headsets
PA Systems
Dect Phones
Caller display telephones
Conferencing
Answer machines
Voicemail
Fax
Loud tone callers (for noisy areas)
Structured wiring, Racks, Hubs, Lan's, Cables and Connections.
We do NOT sell mobile phones
Contact us to discuss your individual requirements and to receive further product information, prices and availability.