Please visit our on-line shop for full Marine VHF / GMDSS DSC product details.
The Global Maritime Distress and Safety System (GMDSS) is a maritime communications system – not just for emergency and distress messages, but also for all types of existing vessel-to-vessel and vessel-to-shore routine communications.
Commercial vessels over 300 gross tonnage and certain smaller vessels (including some fishing boats) must fit GMDSS equipment. Most of the well known offshore yacht races now insist yachts are GMDSS equipped. There are several elements that makeup the total GMDSS system, including Digital Selective Calling (DSC) via radio,satellite communications, Navtex weather and navigation information dissemination, Search and Rescue Radar Transponders (SARTs) and Emergency Position Indicating Radio Beacons(EPIRBs). A pleasure vessel may not need all of these, or may not need them all now.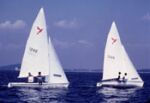 Whilst it is voluntary for small craft used solely for leisure purposes, the UK Coastguard strongly recommends that these vessels have Digital Selective Calling (DSC) radios. All UK Coastguard stations are GMDSS DSC equipped.
DSC is simply a tone signaling system, which operates on VHF Channel 70 (similar to tone dialling on a phone), but with the ability to include other information such as a vessel's identification number, the purpose of the call, your position, and the channel you want to speak on. The present VHF system requires users to listen until someone speaks and determine whether the call is for them. All small-craft VHF now on the market must be "GMDSS compatible" – many are simply that and require the DSC element to be purchased separately. If you don't get both parts, the many benefits of GMDSSDSC will not be available.
It is no longer mandatory for shipping to maintain a "listening watch" on VHF Channel 16 (many still do), but GMDSS has meant that all emergency, safety and routine messages are received without needing a dedicated listening watch to be maintained.

The UK Coastguard has discontinued a dedicated headset listening on Channel 16 from February 2005 – although a "loudspeaker" watch will continue.

The benefits of DSC Distress alerting are that you can simply send your boat's identity, your position* and the nature of distress. The position given will be precise and the alert will be heard immediately by all DSC equipped vessels and shore stations within range. The distress message will be automatically repeated every 4 minutes until it is acknowledged either by a Coastguard station or ship within radio range.
Maritime Safety Information (MSI) broadcasts from coast stations and shipping automatically generate an alert (ring tone) to ensure this vital information is not missed.
For routine calls to call another vessel or coast station, you simply input their dedicated number (mobile maritime service identity MMSI), select your chosen VHF working channel and send the call - it's like using a telephone. Both your radio and the one you are calling automatically switch to the chosen channel for subsequent conversation.

GMDSS DSC could save your life! It means that distress calls with the precise position* of your boat can be sent in seconds, even if you are the only person on board with radio training. It is very easy to train your crew to 'push the red button if anything happens to me'. The system works and has already saved lives. It makes day-to-day radio operation much simpler. Calling is automated and you no longer need to keep permanent watch on Channel 16. An alarm will sound if you are being called. All big ships and almost all European Coastguard's are fully equipped for DSC and will respond instantly if called. GMDSS is a worldwide system, which can be used anywhere. Being fully automatic, it avoids possible language barriers. Using DSC will help you, others in distress, and the Coastguard.
* To transmit precise positions, the DSC must be interfaced to GPS. Otherwise,regular manual position updating is required.
Please visit our on-line shop for full Marine VHF / GMDSS DSC product details.