The HX 590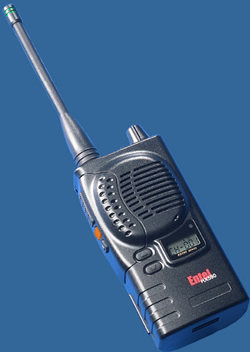 The Smallest Full Power, Feature Rich Transceiver In The World! The Entel HX590 features:
90 PROGRAMMABLE CHANNELS (VHF / UHF)
MILITARY STANDARD CONSTRUCTION
1800 mAh LITHIUM ION BATTERY TECHNOLOGY
HIGH AUDIO OUTPUT
FEATURE RICH
EXTENSIVE RANGE OF ACCESSORIES
5 Watts VHF, 4 Watts UHF output power
Low Battery warning - Audible & visual
Extremely robust construction - built to MIL-STD810D/E
12.5KHz / 25KHz Channel spacing programmable for each channel
The Entel HX590 has been designed for the highest levels of durability and reliability and meets essential military standard ratings. The HX590 is also more powerful than radios twice its size and can deliver 5 watts of RF power. Despite its size it can also produce a high audio output with the latest noise reduction circuitry ensuring you have intelligible transmissions in the noisiest of environments. A complete range of quality accessories allow you to tailor these transceivers to your optimum requirements and their operating environments.
Desktop Chargers
6-Way multi Chargers
Speaker Microphones
Covert Accessories
Hard Hat Accessories
Carry Cases & Belts
Stubby Antennas
Please use our contact form to receive further information and prices on the HX590 and accessories